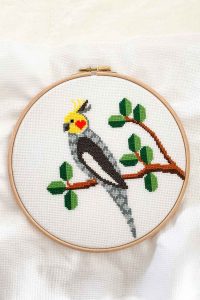 If you're interested in framing a cross stitch in hoop, you can use one of several options. You can use a wood plastic hoop or a scroll frame. Here are some examples. You can also use E6000 glue. The glue tends to be a bit thicker than fabric glue, so use it sparingly. Then, attach the ribbon using a glue gun or a small piece of fabric.
Embroidery hoop marks
To frame your cross stitch in a hoop, you need to center the design. To do this, fold the fabric in half and press the fold to mark the center of the hoop. You can also mark the center of the design with a tiny stitch. Once you have placed the hoop on the fabric, you can begin stitching. To make sure that your cross stitch looks perfect in your frame, follow the tips below.
First, clean your embroidery piece. The piece of cross stitch might seem clean and pristine on the surface, but hand oils and pet hair can settle on the fabric. You can easily eliminate these marks by washing the piece of fabric. However, it's a good idea to wash the fabric regularly, so you can avoid hoop marks. This way, you can maintain the original color and quality of your cross stitch.
Second, make sure that the back fabric is at least halfway across the embroidery hoop's width. You can also sew the backing fabric to the finished cross stitch. This will prevent tangles of thread on the edges of the frame. Make sure you pull the fabric taut to keep the finished embroidery looking its best. Finally, you can add a ribbon or a decorative element to the back fabric.
Embroidery hoop transfers
The framing process can be quite easy if you know what to do. Firstly, you'll need to remove the embroidery from the hoop and wash it. Next, you'll need to find a piece of fabric large enough to fill the frame. Leave two or three inches extra for the back. Trim the fabric as necessary. This step should take approximately five minutes, so be sure to leave plenty of time to complete the project.
When it comes to framing cross stitch in embroidery hoop transfer, it is possible to leave the work of art in the framed design for as long as you like without worrying about stretching or leaving snags. You can also take close-up photos to see how even the stitches are. Also, the hoop does not have to be round – you can get a square, hexagon, or even an octagonal version.
Once you've framed the embroidery piece, it's time to attach the fabric backing. You can also add a hanger by threading a ribbon or chain through the hoop's raised portion. It's important to remember that the fabric backing should cover the entire back of the embroidery piece, or else the stitched design may not stay in place. Alternatively, you can use a length of lace or a piece of string or even a tightened screw.
Using a scroll frame
Using a scroll hoop frame is a versatile method of framing your cross-stitch in a hoop. The frame can keep your fabric taut while you work. Scroll frames can be made of wood strips and round scrolling rods. If you want to make your scroll frame more secure, you can add Velcro strips. These strips can be removed once you're finished stitching.
Another option for a scroll frame is a plastic or bamboo cross stitch hoop. It is a great way to practice your stitching technique on a small, inexpensive canvas. You can borrow a scroll hoop from a friend or purchase a basic model. Read reviews about various scroll frames before you purchase one. It can help you decide which one is best for you.
Before you begin stitching, be sure to wash your hands. Pet hair and dirt can easily find their way onto your project. This can result in a hoop that is marked by dirt and pet hair. Washing your hands will help protect your stitching project and reduce the risk of accidents. Once you've finished your cross stitch, you can now use it as a frame.
One benefit of using a scroll frame instead of an embroidery hoop is that you can use it for larger projects. While a scroll hoop is not a perfect solution for larger projects, it can be a good option if you need to finish a large project. The scroll frame can be purchased in different sizes and materials, and will fit any project. This type of hoop can also be used for needlepoint projects.
Using a wood plastic hoop
If you are thinking about displaying your cross stitch work, it may be time to buy a frame. Most hoop frames are made of wood and plastic, but you can get creative by using different materials. Wooden frames are best for framing large pieces of cross stitch art. Wooden frames are especially good for large works, because they can hold several pounds of fabric. Wooden frames can also be great for smaller projects, such as wall hangings.
Whether you plan to frame a small piece of embroidery or a large canvas, the hoop will enhance your piece. You can add a decorative ribbon to the inner hoop or wrap it around the frame. Red ribbon looks great on Christmas designs. To add extra flair to your hoop, you can glue a piece of fabric or ribbon onto one side of the frame.
The process of framing a cross stitch piece is quite simple. Once you have completed your project, you simply place it into the hoop and frame it! If you are framing a large canvas, you can even use a single wooden hoop. You should use a screwdriver to tighten the hoop. In addition to the frame, a wood plastic hoop can make the cross stitch look more beautiful.
Using Fabri-Tac
Before framing your cross stitch in a hoop, you should wash your finished work. Over time, invisible oils can collect on the fabric, resulting in stains. Washing also helps remove hoop marks and creases. Here are some tips for framing cross stitch in a hoop. It's easy to make your own framed cross stitch.
Choose a natural fabric, such as cotton, silk, or wool. Once the fabric is washed, center it inside the hoop and pull taut. Then, trim the outer edges of the frame with a fabric scissors. Once dry, trace the pattern or cut out a felt circle. Add some Fabri-Tac to the inner edge of the band.
Once your work has been finished, you may want to frame it. An inexpensive, modern option is to frame it in a hoop. Many cross stitch patterns will look great displayed in a hoop. You can even add personalisation to your framed cross stitch by following hoop decorating tutorials. Just remember to measure the distance between the hoop and the finished piece of artwork.
If you're right-handed, place the outer ring hardware at 10:00 or 11:00. For left-handed stitchers, place the outer ring hardware at 1:00 or 2:00. For right-handed stitchers, the outer ring should fit snugly over the fabric without pushing it. And, if you're using a Fabri-Tac to frame cross stitch in hoop, make sure to read the directions carefully before attempting to use the product.
Using a PVC pipe frame
The idea of using a PVC pipe frame to frame your cross stitch in a hoop is not new, but you might be surprised by how many people aren't aware of its benefits. The frame keeps your work taut while stitching and doesn't leave any creases on your working surface. Unlike the hoop, it also comes with plenty of other advantages, including the ease of mounting and removal.
To make your own PVC pipe frame, you will need a few simple tools. First, you will need a PVC pipe, called a Q-snap. These are interchangeable lengths of pipe, which you can clip together to create your desired work size. Once assembled, simply roll the fabric around the curve of the PVC pipe and hold it taut with a clip. Once complete, you can detach and store the frame.
The frame will help you keep the fabric taught and make adjustments easier. If you have a PVC pipe frame, you can purchase a Handheld PVC Stitching Frame, which works well as an alternative to embroidery hoops. You can stitch on it with the fabric stretched taut by rotating the clips from inside to outside. This way, you can adjust your project while it's in progress without readjusting the frame.