How to make cross stitch with an embroidery machine
If you love cross-stitch but are too busy to sit down with a hoop and needle, try getting a cross-stitch embroidery machine. These embroidery machines do the work for you and can create beautiful patterns in a fraction of the time it would take to hand sew.
Cross stitching with an embroidery machine is an excellent way to create beautiful and intricate designs. This type of stitching requires a certain level of skill, but the results are well worth the effort. The embroidery machine can create a design in a short period of time. A basic cross-stitching design can be completed in under an hour with an advanced model.
Setting up your machine
Cross stitch supplies you will need:
Embroidery Bobbin Threads;
Embroidery stabilizer (this is different from regular sewing stabilizer);
Frixion Pen (optional);
Backing Fabric – 8×10 piece of fabric in color of your choice;
Embroidery machine cross stitch designs
By far the best place to get embroidery machine cross stitch designs is the internet. Many of the free downloads available on the internet have been provided by other sewing enthusiasts who have created their own designs or have adapted existing designs to suit their own purpose. These can be downloaded for free. There are also many sites that offer a huge range of downloadable embroidery designs for a very low cost – some even offer a free trial period so you can try before you buy.
Designs from other sources
Embroidery machine cross stitch designs are available at Embroidery Designs, Embroidery Library, and Sew Forum. All of these websites offer some free designs.
Embroidery Designs is a website that offers a wide variety of cross stitch design categories ranging from animals to holidays and back again. The website is updated on a regular basis with new designs, and the user can search by category or keyword to find exactly what they need.
Embroidery Library offers a wide variety of designs in several formats including .jef, .pes and .art. There are also many "free" designs available for users who don't need a huge collection to choose from.
Sew Forum offers forums for users to talk about their projects and also offers some free embroidery machine cross stitch designs in the form of downloadable pdf files.
Creating your own cross stitch designs
If you have an embroidery machine, chances are it came with a few pre-programmed designs. But don't limit yourself to those! You can create your own cross-stitch designs using an online cross-stitch chart maker. This will allow you to make custom designs that perfectly match your tastes. Just convert the chart into a file format that your machine can read, upload it, and start stitching!
Find an online cross stitch chart maker and use it to create your design. There are many different sites that can be used to make these charts; some popular ones include MyPhotoStitch and PCStitch. The basic process is the same regardless of which site you use:
Upload a picture you want to convert into cross stitch (this can be anything from an original drawing to a photograph).
Choose whether you want "full stitches" or "back stitches." Full stitches mean that every section of the design will be stitched. Back stitches are like outlines, outlining each section of the design in black. If you choose back stitches, you can add some color to your design later with fabric paint.
Hooping the fabric for embroidery
Now you can get started on creating your cross stitch with an embroidery machine! First, place the stabilizer on top of the backing fabric. Use a Frixion pen or something similar to it.
Cross stitching is done on a type of fabric called Aida cloth. Aida cloth is an open weave fabric that has the same number of threads in the warp and weft. This means that it can be switched on without using a hoop, as there are spaces to insert your needle between the warp and weft threads.
Sadly, most embroidery machines do not come with a hoop large enough for Aida cloth. The smallest cross stitch pattern ever was only 2 stitches wide and 2 stitches high, so you need something at least twice that size. I like to work on a piece at least 6 inches wide and 6 inches high, which is 18 stitches by 18 stitches.
You can use embroidery floss or Perle cotton for this project, but I like to use quilting thread from Aurifil because it is relatively inexpensive and very strong.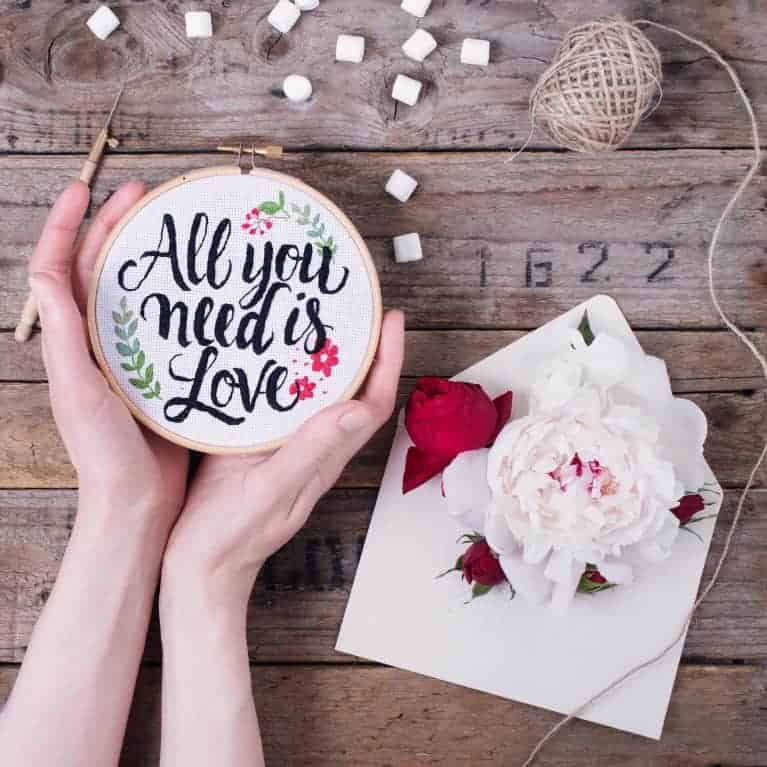 Placing your design on the fabric
Placing your design on the fabric is a simple process that can be done in a number of ways. The most popular method is to use a removable adhesive which is applied to the back of the completed design and then firmly pressed onto the fabric. The design is held in place by the adhesive.
The easiest way to find out where exactly you should place your design on the fabric is to center it between two vertical lines of stitches. This way you will be able to ensure that your work will be in balance once finished.
You should also make sure that there are enough stitches left from each side of the hoop in order to hold everything neatly in place and prevent the fabric from getting loose during the stitching process. Once you have placed your design on the fabric as desired, tighten up all screws of the hoop so as not to loosen up during stitching and spoil everything.
Stitching out the cross stitch design
6 steps to make your first cross stitch by embroidery machine
Gather the supplies
Decide on a design
Transfer your pattern to fabric
Preparing your hoop
Threading Your Sewing Machine
Start Cross Stitching
Using an embroidery machine for cross stitching is a wonderful way to get quality creative results faster than you would by hand stitching, and gives you more opportunities to create your own designs.
Choosing embroidery machine for cross stitch
Factors to consider when choosing the best embroidery machine
There are a lot of embroidery machines on the market and it can be difficult to decide which one is right for you. You'll want to consider what you are most likely to use the machine for and how often you plan on using it.
For those who mainly plan to do embroidery, there are a few things you'll need to know. The first thing is that, while you can buy an embroidery-only machine, if you think there's a chance that you might also want to sew as well, then make sure to get a combination sewing and embroidery machine. That way, if you decide later that you want to sew as well, then you won't have to purchase an entirely new sewing machine.
In addition, if you are going to use your machine for embroidery, make sure you purchase one with a large enough embroidery area. This is particularly important if you ever want to do large designs because if your design is too big for your machine's embroidery area then you won't be able to finish the design in one hoop.
Some of the most important factors include:
Price
Quality
Speed
Versatility
Warranty
Selecting the right embroidery machine is not an easy task. There are so many things that you need to consider before making your decision, from the speed of the machine and its quality to the number of needles and hoops. To make sure that you have made the best choice for your needs, here are some of the most important factors that you need to consider when choosing an embroidery machine.
Single vs. Multi-needle
This is one of the most common questions asked by beginners in embroidery. A single-needle machine is great for small and intricate designs while multi-needle machines are better for bigger projects like logos or other types of designs that require larger stitches.
Speed
Machines come at different speeds and it is important for you to know what your needs are so that you'll know which one to get. For example, if you usually work on smaller projects, then a machine with a lower speed may be fine for you but if your business requires working on bigger projects then you need a commercial high-speed machine.
Number of hoops
You will also need to take into account how many hoops are available with the embroidery machine that you choose. This aspect can determine whether or not you will be able to complete,
Choosing a reputable brand
Buying a new embroidery machine is an expensive purchase, so it's important to stick with a reputable brand name, like Brother, Singer, or Janome. Avoid no-name brands, which often come with short warranties and are unlikely to be able to help you with your needs. Also, most reputable brands offer decent warranties that will protect you in case of malfunction. This can help you rest assured that your machine will perform as you expect it to.
Another thing to consider when choosing a new machine is the number of inbuilt designs. Although most machines come with a limited set of designs, you can easily add more at a later date if you're not satisfied with the number of designs inbuilt. Also, look for a machine that comes with USB design capability or design software. If you're planning on creating your own designs, you'll need to look for a machine that comes with a design software package.
Some popular embroidery machines and their pros and cons
Brother SE600
This is the most popular embroidery machine. It has 103 built-in sewing stitches and 80 inbuilt embroidery designs. It also comes with five lettering fonts. The largest hoop available for this machine is 4 X 4 inches. The pros are that this machine is very affordable and easy to use. The cons are that it comes with a limited number of built-in designs and a small hoop size.
Brother PE800
This machine is more expensive than Brother SE600 but has more features. It has 138 built-in designs, and 11 Built-in fonts: 7 English, 3 Japanese, and 1 Cyrillic. The maximum embroidery space available for this machine is 5 x 7 inches. This model can be used as an embroidery-only model or as a combination sewing and embroidery model.
Janome Memory Craft 500E Embroidery Machine
This is one of the best embroidery machines on the market today. There are two versions of this machine – one only does embroidery while the other model (MC500E) does both sewing and embroidery work. This machine comes with a large touch screen display which makes it easy to set up your design and edit it before you start working on your project.
How much do embroidery machines cost?
Embroidery machines are priced similarly to high-class sewing machines. Prices can range from $300 to $8,000 depending on the type of machine and the number of features. As with sewing machines, it's a good idea to think about the types of projects you want to create and what kinds of features would be useful for those projects before making a purchase.
Parts & accessories for cross stitching with an embroidery machine
Needle size
Needle size is an important factor to consider when selecting an embroidery machine for cross stitch. There are different types of needles, but the basic sizes are 75/11, 90/14, and 120/14. Choose one that works best for the type of fabric you plan on embroidering. A 75/11 needle, for example, is a good fit for delicate fabrics, such as silk. The 80/12 needle, on the other hand, is a good fit for a light, thin, and stiff Richardson hat. Its thin blade is durable and helps to eliminate the problem of bending a 15×1 needle.
The tip of a needle is very important when working with a cross-stitch design. The tip should be sharp and wide to prevent puckering. Moreover, a blunt point can lead to puckering in the finished product, which is why needles come in different sizes. US sizes are standard and metric sizes differ. Size 13 and 14 needles are generally used with home embroidery machines. While the larger sizes are more suitable for cross stitch projects, those that require large needles will struggle to work intricate designs.
Fabric
Selecting the right fabric for your machine is an important step in creating beautiful embroidery projects. The fabric's thread count determines how tightly or loosely it can be woven, and the lower the thread count, the better. Generally, fabrics with thread counts of 14 to 36 are suitable for embroidery. However, if the design you want to stitch requires a larger or smaller fabric than that, you'll need to choose a fabric with a higher thread count.
When choosing a fabric for your embroidery machine, consider the thread count, color, and material. You'll probably need at least 19-36 threads per inch to create the most beautiful embroidery patterns, so look for a machine with a high thread count. You should also consider the type of embroidery you plan to do. Natural fibers will shrink a little bit with age, so you'll have to choose a fabric that can handle that.
Stabilizers
One thing to look for in an embroidery machine is the ability to cut away the stabilizers once you're done. Depending on the fabric, you might be able to just cut away a portion to make your embroidery project look like a finished product, or you might need to remove a substantial amount. Cutaway stabilizers are the best choice for projects made from stretchy or soft fabrics since they will provide a stable foundation for the stitches that you've worked so hard on.
There are several types of stabilizers to choose from, depending on the design you're working on. If you're working with silk, avoid temporary spray adhesives. They leave behind stains and may not be removable. If you use more than one type of stabilizer, hooping the fabric can be helpful. Some stabilizers are wash-away and water-soluble, such as Soluflix by Vlieseline, Sulky Sticky Fabri Solvy, or Madeira Avalon Fix.
Common question about cross stitching with an embroidery machine
What are the differences between cross stitching and embroidery on an embroidery machine?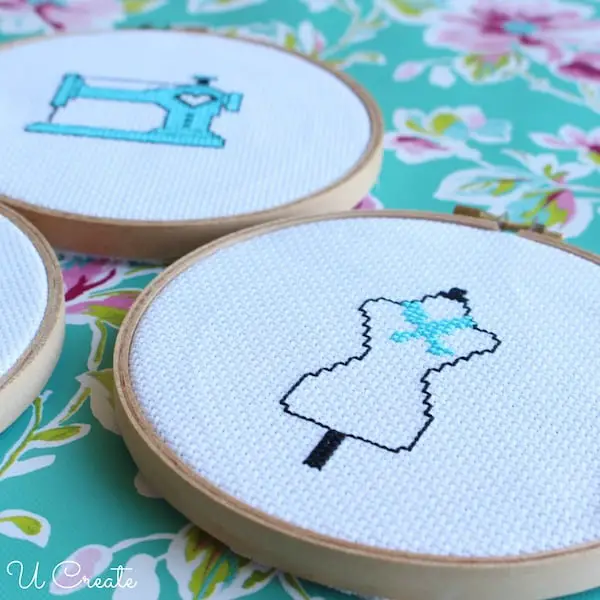 There are a few key differences between cross stitching and embroidery on an embroidery machine. The first major difference is the amount of time required for the process. Hand embroidery requires much more time. Another difference between hand embroidery on an embroidering machine is the types of stitches used. Hand embroidery is typically more dimensional and textured. Embroidery on an embroidery machine uses a higher-quality needle.
Is surface embroidery is more dimensional and textured than cross stitch?
The embroidery technique that is best suited to machine-based digitizing is surface stitching. Unlike cross stitch, surface embroidery is more dimensional and textured than cross stitch, and the natural sheen of thread creates a fascinating medium. A series of stitches are combined to create form, and embroidery digitization is usually done directly from a flat source image. By applying different colors to the same piece of fabric, you can create a three-dimensional object, such as a portrait.
The woven fabric is ideal for surface embroidery, as it holds its shape when adding stitches. Embroidery floss is available in many different colors and materials, including Aida cloth, muslin, and linen, which are all-natural meshes. Other fabrics are ideal for surface embroidery, including felt, which has a distinct texture and thickness and won't fray at the edges.
The traditional stitching method of cross stitch and surface embroidery is still popular with some embroiderers. Surface embroidery with an embroidery machine is more dimensional and textured than cross stitch, and is also more realistic than cross stitch. Many modern machine embroidery techniques take advantage of this. An embroidery machine can create beautiful, textured surfaces that look like they're floaty. It's easy to get a great surface embroidery design by following these three simple steps.
Both methods of surface embroidery are effective. Although surface embroidery with an embroidery machine is more dimensional and textured than cross stitch, both types of surface embroidery are excellent for border crafts. Both techniques allow for color gradients and mixing patterns. Embroidery machines also give you the opportunity to add bling and create pop-up patterns. So, depending on the purpose of your project, you can use either technique to create a beautiful, unique, and custom piece.
Aside from being more dimensional and textured than cross stitch, surface embroidery with an embroidery machine is much more difficult than cross stitch. Surface embroidery with an embroidery machine is also more detailed and intricate, requiring a larger amount of time. While cross stitch is a rewarding craft, it may not be the best option for beginners. Beginners should start with simple stitches and work their way up to more complicated techniques as they gain experience.
How to choose patterns for cross stitching with an embroidery machine?
Embroidery machines make the task of sewing a cross stitch pattern easy since the designs are already drawn. Usually, cross-stitching patterns are only available in the machine embroidery format, and cannot be printed. However, you can find some cross-stitching patterns in PDF format. If you look for them on the product page, they will have an option in the "Format" field, indicating whether or not they are available in PDF format.
To begin, you will need a blank piece of fabric and an embroidery machine. You should select a fabric with the correct size and shape, as well as a design that will fit within your embroidery machine's capabilities. To create a perfect cross stitch, you will need to make sure that the thread is evenly distributed. It is best to choose contrasting colors, as they will blend together if they are too similar.
There are many types of cross stitching patterns for an embroidery machine, as well as a variety of stitching patterns. The most basic design is the X shape stitch, which can be done on fabric divided into squares. This method allows you to create flat patterns, whereas embroidery produces three-dimensional, multi-dimensional patterns. Cross stitching is an excellent way to create color gradients and blended colors because you can use different shades of a single color on either side of the fabric.
When choosing a cross-stitching pattern, try to find one that will make you happy. Both cross stitching and embroidery are rewarding crafts, and you can learn both styles. You can even choose to alternate between the two, depending on the situation. It's best, to begin with, the simple ones and works up to more complex designs as you become more experienced. There are thousands of cross-stitching patterns out there, so you can find one that fits your style and your machine.
If you prefer a more detailed surface, you can choose one that uses a hole embroidery technique. This involves pulling the sewing thread tighter. The tighter the thread is, the larger the hole will be. Make sure the thread color matches the fabric you're working on so that it is invisible. You can also choose patterns with various designs for your machine. Embroidery machines can also be purchased online.
What is the cost of machine embroidery compared to hand embroidery?
The cost of machine embroidery versus hand embroidery is very low, and it allows for mass production. Hand embroidery requires a lot of handwork and artistry. Cross stitch, for example, is a good way to get started with embroidery. Cross stitch tiles are a good way to teach yourself the basics of counted thread embroidery. They are perfect for beginning embroidery enthusiasts. This method is also cheaper than hand embroidery and can produce the same result in much less time.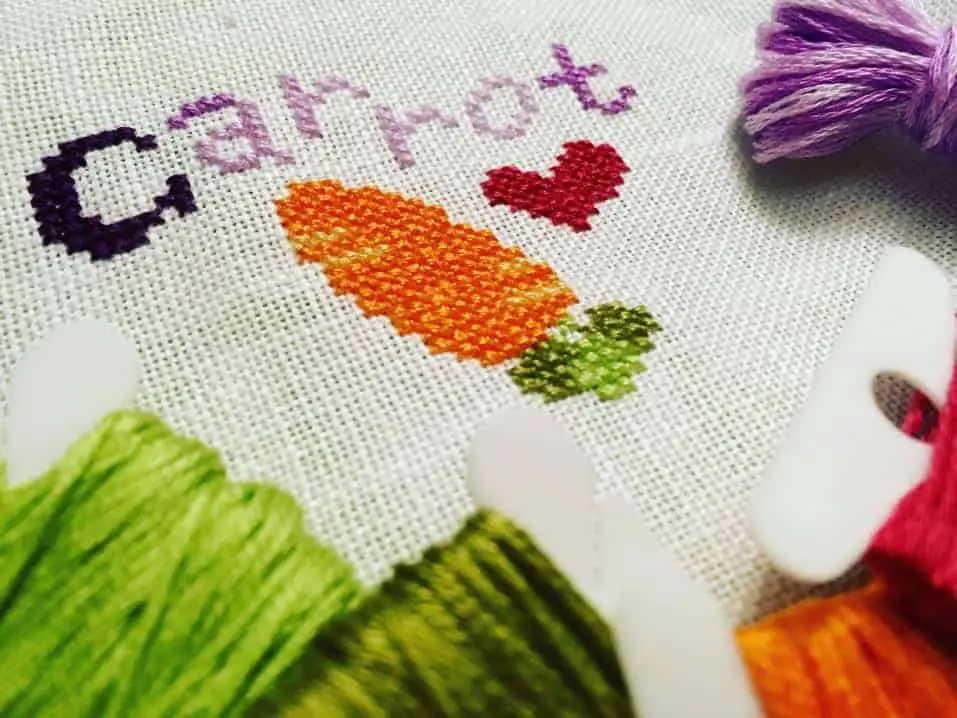 While hand embroidery requires a high level of skill and a high level of artistic ability, it can be more personal and creative. Hand embroidery requires a lot of time and heart to produce a lifelike piece of art. On the other hand, a machine-embroidered design is much more professional-looking. There is a huge selection of designs available to choose from with a machine. If you're not sure which way to go, here are the advantages of each method.
One of the main differences between hand embroidery and machine embroidery is the cost. Embroidery machines can be very expensive, but they're becoming more popular. With the growing demand for handmade gifts, you can easily turn your hobby into a small business. The cost of a machine embroidery machine starts at about $400, and this includes the cost of the machine and all the supplies and customization. In addition to this, the cost of patterns can vary widely, especially if you're buying licensed characters or designs.
Embroidery machines range from budget-friendly models to high-end models. Although the cost is comparable for similar machines, the price can vary widely depending on your requirements and your budget. When choosing a machine embroidery machine, make sure to understand the different stitching factors before choosing a model. In addition, it's important to remember that hand embroidery is much more time-consuming than machine embroidery, and it's not easy to make mistakes on small items. Besides, you're also less likely to sell the same piece to many customers.
Besides the difference in price, the main difference between hand and machine embroidery is the type of thread used. While hand embroidery uses lighter thread, machine embroidery uses thicker yarn. This allows for the creation of different stitch designs and fabrics. The hand-embroidered pieces will be unique to the individual who performed the work. Machine embroidery, on the other hand, is more uniform and consistent. This means that machine embroidery can be used for large projects.
What needle sizes used in cross stitching compared to embroidery by hand?
When you're doing cross-stitching with an embroidery machine, there are several things to keep in mind. First, there are different needle sizes for different types of fabrics. If you're working on lightweight fabric, you'll want a needle that is 75/11 or smaller. For medium or heavy-weight materials, you should consider a needle that is 80/12 or larger.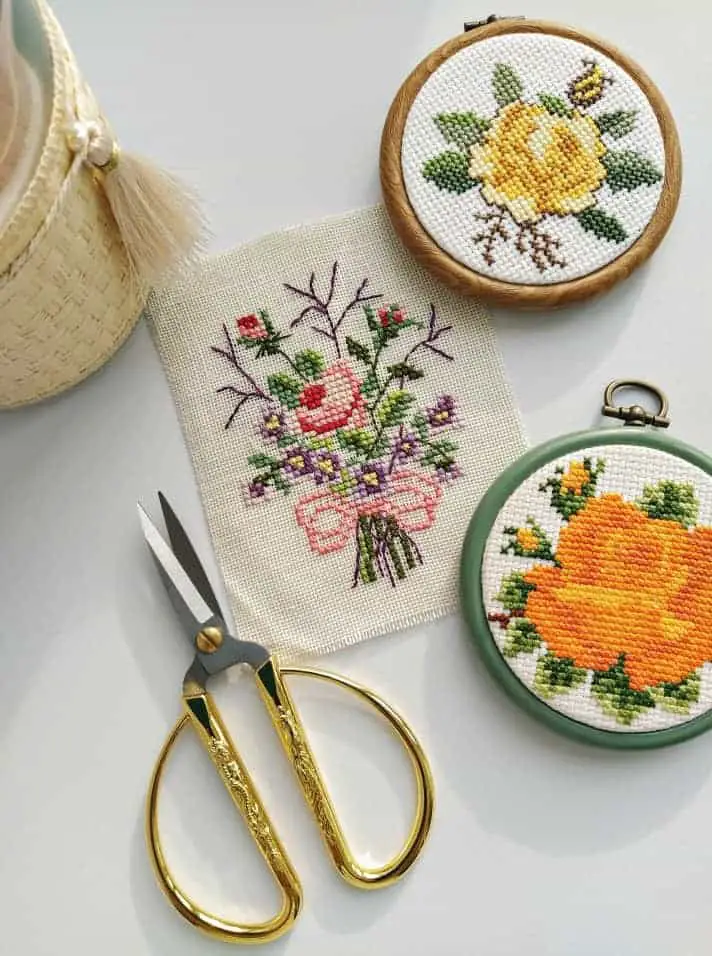 Needle sizes are confusing. A size 22 needle is vastly different from a size 12 quilting needle. To make things easier, needle manufacturers measure their diameter in thousandths of an inch. In the US, this measurement is expressed as millimeters. Japan, for example, measures needle thickness using a different system. When needles are seven millimeters wide, they are designated as 8mm, while thinner ones are designated as 10mm.
In addition to thread size, another important factor is the type of needle. For example, a ball-point needle is more appropriate for drawing work and counted cross stitch. It also has a larger eye than a flat point needle. You can use a ball-point needle in regular embroidery as well. A number of needles are gold plated for people with nickel allergies. However, you should note that gold-plated needles should be replaced once the plating starts wearing off.
Different fabrics require different needle sizes. The fiber count of the fabric and the thread thickness will determine which size is best. Larger needle size will create friction with the thread, which could result in fuzzies. A smaller needle will leave a hole in the fabric, which is not desirable. Therefore, it is important to carefully select the needle size based on the fabric and thread thickness.
Needle sizes used in cross stitching with an embroidery machine compared to embroidery by hand differ. While cross-stitching needles are blunt, embroidery needles have sharp tips. It's important to understand the difference between a needle for cross stitching and a needle for embroidery. Regardless of the medium, you'll need to choose the correct needle for the project.